Presentation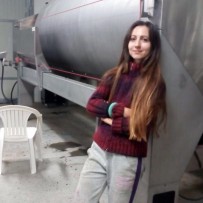 Hi everybody, particularly to the lovers of this amazing world.
My name is Alessandra and I'm 29 years old. I was born in north Italy, near Milan but one
day, me and my father decide to move in Puglia, where my grandfather leave us his
vineyards.
It has been very hard but at the end we have built our small winery.
Our wines are different from those diffused on today's market, because we aim to make
them naturally express without sophistications that make them too fruity.
So they are comparable to the old country wines.
Our specialty is NERO DI TROIA, a rare red wine, tipical of our country. We cultivate the
ancient cultivar, rich in tannins and polyphenolic antioxidants.
Another special wine we made is MOSCATO DI TRANI. It's a slightly sweet wine, with a
honey, banana and peach taste. Year after year this type of wine is rare more and more,
because it is difficult to product.
Luca Maroni, one of the best Italian wine taster have rewarded it as third good sweet wine
of the Puglia year 2015.
Also my aged red wines have received success on the italian wine guides (Luca Maroni
2015,Veronelli 2015 and Vini Buoni d'Italia2015).
I have just begun and my road is still long, but the passion for this fantastic world give me
all energy I need!